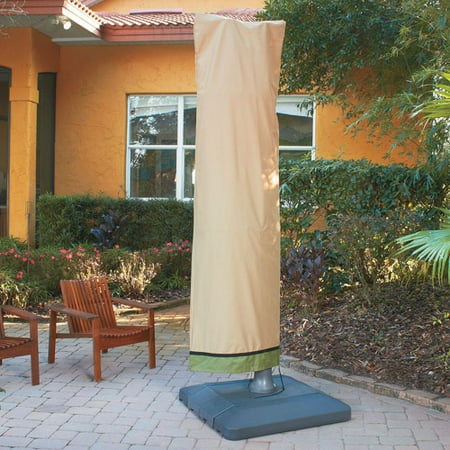 This Sure Fit Offset Umbrella Cover in taupe is designed to protect your patio umbrella when it is not in use. These superior outdoor covers are constructed of a specially engineered PU coating that makes them weather-resistant. Featuring a 280-gram polyester material, this outdoor umbrella cover provides a barrier against elements such as rain, snow, dirt, sap, sun, mold and mildew. It also has a zippered enclosure that keeps this patio umbrella cover securely in place.
Sure Fit Offset Umbrella Cover, Taupe:
280-gram polyester material
PU coating for weather resistance
Zippered enclosure
Dimensions: 35"L x 35"W x 103"H
Model# 131865682W
Customer Reviews
I would recommend
This actually fit over our off set umbrella and looks good with our other umbrella covers around the pool!Kristine
I would buy this product again
After several ohio winters, the cover that came with our large offset deck umbrella disintegrated and became like cheesecloth, full of tiny holes. When putting this cover on today I noticed the material was much thicker. Our umbrella is too large to take apart during the winter and bring inside so this will keep it safe from winter snow and sun while not being used for many months. Was easy to put on by standing on a short ladder and using a wooden cane to lift it over the umbrella.Linda
It is truly a Sure Fit Cover
I ordered this cover to protect my new 11 ft solar umbrella with lights and it indeed does that. It has a zipper down the side for an easy way to close. Keep in mind you still have to have the help of a ladder. I really like the cover, the quality, and the appearance. I would recommend it to anyone.grandmamarsha
Great so far.
We just purchased this so don't know how long it will last but for the price we'd be happy with a couple seasons. The good quality of the fabric surprised us. It is sturdy, well made, also very easy to put on. Cover goes all the way to the bas and can be tightened at the bottom to keep the wind out.ih82cook
Great Value
Great fit for universal cover; I have an offset umbrella that has a mast with large arch and umbrella hangs down. Nice quality style and fabric. Pleased so far, just put in on for long Minnesota Winter. Excellent service with Walmart online order and store pickup.
You may also be interested in