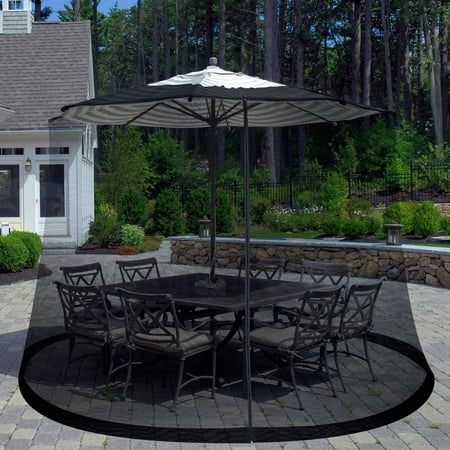 If you are searching for a practical solution to a pest problem when eating outdoors, look no further than the Black Pure Garden Outdoor Umbrella Screen. Keep flying insects from ruining a nice meal outside with your family and friends. The outdoor umbrella table screen cinches quickly to most umbrella sizes and drops down providing you the cover you need against these pests. Secured at the bottom by a water-filled tube, the screen can increase the overall comfort of your outside meals without unnecessary bulk or fuss. The umbrella mesh screen installs quickly and easily and provides a solid quality insect control screen devoid of harmful chemical or additives, which many other pest repellent options possess.

Pure Garden Outdoor Umbrella Screen, Black:
Effective outdoor pest control
See through umbrella mesh screen won't ruin your view
Cinch top adjustable closure allows it to fit over most umbrellas
Bottom tube fills with water keeping screen in place
Fits umbrella up to 7.5' in diameter
Material: 90% polyester, 10% PVC
Height: 82"
Customer Reviews
But 5 stars if you want to make a Redneck Aviary
I read the reviews and I'd probably agree that this is smaller than depicted, however, that's what I wanted. But since I'm reviewing for other people who are looking for screens, I rated it based on how it is depicted. The screen seems to be holding up well. It has a drawstring at the top to make it fit the umbrella, and you add water to the tube at the bottom to keep the screen in place. It also helps my birds to not crawl under it. The zipper so far is working well, and it zips all the way up to easily access the inside. The zipper is smooth so far, though it's only been up about 2 weeks. We originally put it over a larger umbrella, and the screen did not touch the ground. The beach umbrella works great, and there's a little room still at the bottom, but it's not very wide and I don't see how you could put a 4 person table and chairs under it.

Okay, stop reading unless you want to see how we made it into an aviary!

And this is why I LOVE IT. Our birds have free reign in the house, but they like being outside when we're in the pool, eating outside, etc. But one frequently thinks it's interesting to fly into the pool, and I've already replaced one phone jumping in to save her without thinking. Since we don't fully clip their wings and they have flight, we didn't want an aviary where we have to take them totally outside. Inside the screen enclosure was ideal.

We're in Florida, and cages rust, so that was out. A big wooden aviary was a fun idea, but takes up a lot of room and is pretty permanent since we have a screen enclosure and it would have to be taken apart to remove. So, a little ingenuity led us to our "redneck aviary". It's actually perfect because the cost was under $40, and can be removed in about 5 minutes if we need the patio space or there's a hurricane. :(

Walmart has $10 beach umbrellas and a plastic umbrella stand for under $9 that we fill with water. The screen is very tight so they don't want to hang on it, which I thought might rip it. We had old shelves that we put inside, and we're adding plants/flowers that are not poisonous to birds, more to come. And husband is going to make some better perches drilled into the side of some poles put into the top shelf. So this is still a work in progress.

A little funky, but fun! And best of all, the birds like it and sing outside with the other birds!FloridaGirl
It doesn't fit
I found out its only for small umbrellalovetoshopwalmart72
Umbrella Screen
I had to return this item. The reason is that it fits a 7.5 umbrella, and mine is a 9.0. and the size is not specified in the ad.

Before I knew that I could order this item from Walmart I had purchased one elsewhere. It cost more and took me over a month to get it.

Walmart had a much better price and had it here in 3 days.JacK
pic must be for mini
the screen does not fit like it shows, it does not reach the floor, and for it to fit around low enough you would have to have the umbrella half closed and everyone sit on the table. very unhappy with it.samsmom16
Unhappy Customer
This thing did come close to fitting my umbrella and four piece set. I'm not pleased at all. I had one years ago and I could walk around in it.jmaye3
You may also be interested in